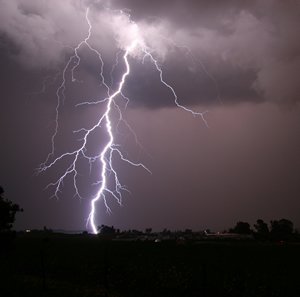 A man identified as Ramoni Aluko has been struck to death by thunder storm on Wednesday in the agrarian community of Ifira Akoko Ondo State.
The 43-year-old man, who was said to be a timber contractor, was hit by the thunderbolt while cutting an Iroko tree.
According to a source, Aluko and one of his business partners, Gbenga Oniyere, went to a forest in Ifiira Akoko to cut the Iroko tree but the thunderbolt hit and killed him.
The source said villagers were giving the incident a spiritual interpretation.
He added that shortly after the incident, some Sango (god of thunder) worshipers arrived at the scene to perform rites before the burial of the victim.
He said, "We have yet to know why this happened to the man, thunder does not just strike without a reason.
"The people of the community contacted some Sango worshippers to bury him as nobody can touch a person killed by thunderbolt, except Sango worshippers.
Another source said Sango's worshippers took the corpse to his home town.
The state Police Public Relations Officer, Mr Femi Joseph, said the command had commenced investigation into the incident.