An Instagram big boy identified as Nico Matlala has caused a stir online among fans after being spotted as a cab driver.
Due to his transition from flamboyance to an ordinary existence, South African Instagram star Nico Matlala has raised many doubts among social media users.
It's unclear whether the Big Boy, who is well-known for flaunting his money online, made the decision to work as a ride-hailing driver in South Africa on purpose or as a result of financial difficulties.
Using the microblogging site, a Twitter user disclosed that she had ordered an Uber, but Matlala accepted the ride.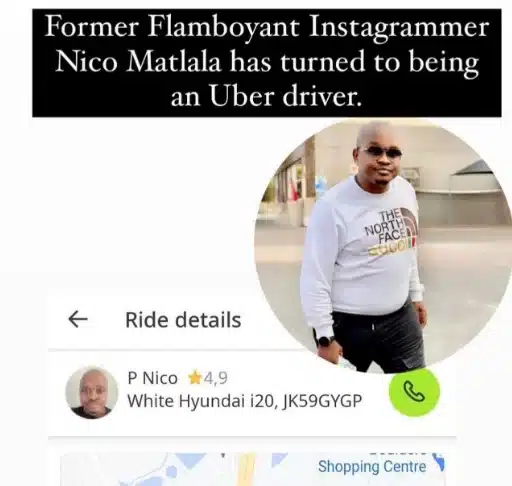 After disappearing from the public eye for some time, many were taken aback when they saw his profile on the e-hailing app. The woman posted a screen grab of the brief details on the app to back up her claim.
@Itu_MIM; "How the mighty have fallen".
@oddet_m; "Nico Matlala is an Uber driver now?"
@Ka_Lindamkhonto; "One thing about black people is that they will fight this life thing, no matter who says what".
@NtsebiH; "What I like about him is he's not asking for money on Twitter".
@doseoftharbie: "Resilience is such an important skill".
@Demigods_SA; "That is Not true, he recently hosted a lavish party in his mansion 2 weeks back"
@sirboring_26; Once they go private then you it's divorce or broke but this man is working his way out of his situation."