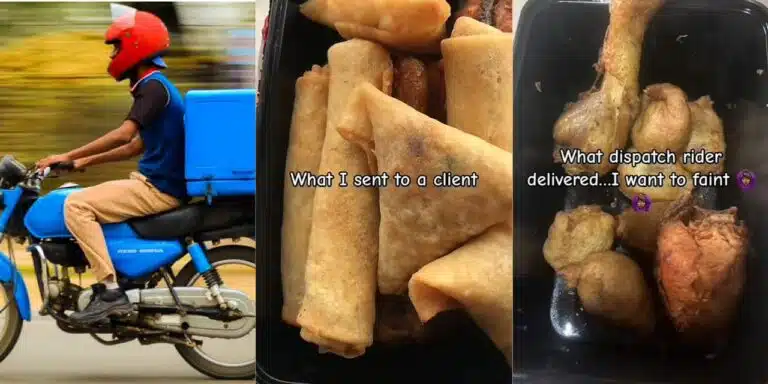 A Nigerian vendor shares her ill-experience at the hands of a dispatch rider who ate out of a food order meant for a first-time customer.
According to the business owner, the rider consumed a portion of the small chops and then delivered the remainder to the customer.
She further emphasized that the customer in question was a first-time patronage, underscoring the severity of the situation..
The video has since generated tons of reactions from netizens, many expressed the view that the delivery dispatch rider should face consequences for jeopardizing her business.
Reactions trailing hungry dispatch rider who are out of food order
Mofiyinfoluwa S said: "He should have just eaten everything. This is why food business owners wrap the hell out of their deliveries."
Eni said: "He probably doesn't like puff puff. He for don chop am too."
Pisces angel said: "Oga rider for just place order na."
TheyCallMeCrazy! said: "Anytime you send a dispatch, let the receiver pay. Tell them to open their package first to confirm if it's as you sent."
that_chick_me1 said: "Get seals so if broken they have to pay for it. or this isn't a thing there?"
Nenye_smiles said: "Maybe de guy no like chicken na why e remain those chicken."
Watch the video below …
@farosseyI'm weak…small business I'm trying to grow Jesus 😭😭😭😭…a first time client o😭