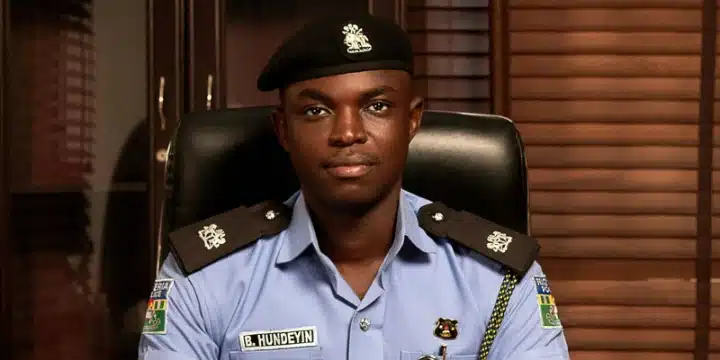 The Lagos State Police Command spokesperson, SP Benjamin Hundeyin, has advised Nigerians to stop sharing ndes with their partners but if anyone wishes to send ndes, they should at least send one with a one-time-view or ensure they cover their faces or any means of identification.
Hundeyin in a post shared on his X handle, said he has lost count of the number of persons including notable individuals, who have approached him with complaints that someone wants to blackmail and extort them with their ndes.
He wrote, "If you must send ndes, at least do one-view or cover your face or any other identification mark. And do not forget that video calls can be screenshot/recorded. For others, it is a clandestine recording of their intimate moments, of course without consent.
"I have honestly lost count of people, sometimes notable ones, approaching me about someone somewhere blackmailing and extorting them with their ndes.
"Trust no one. Take adequate precautions. Trust your instincts too. And do not forget to reach incb.npf.gov.ng in the unfortunate event you fall victim of this. 🤗🤗"
Read his post below: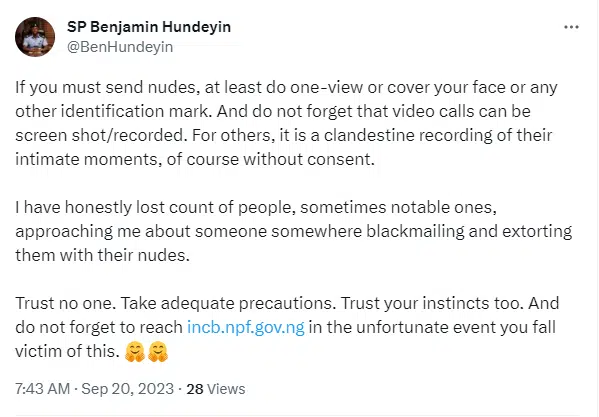 In related news, Moyo Lawal, a popular Nollywood actress, recently found herself at the center of controversy when her nde video began circulating widely on social media.
The video garnered significant attention and sparked heated debates among Nigerians. While some defended Lawal, others argued that the video was an inappropriate behavior.
Some argued that as an adult and artist, she has the right to explore her sexuality and express herself freely. Others believed that such behavior was immoral and should not be encouraged or celebrated.