Naija Gossip 247
Video: Singer Billed $5k After Accidentally Breaking Friend's Bentley Windshield He Borrowed
An up and coming single borrowed a friend's Bentley to shoot a music video but ended up regretting his decision.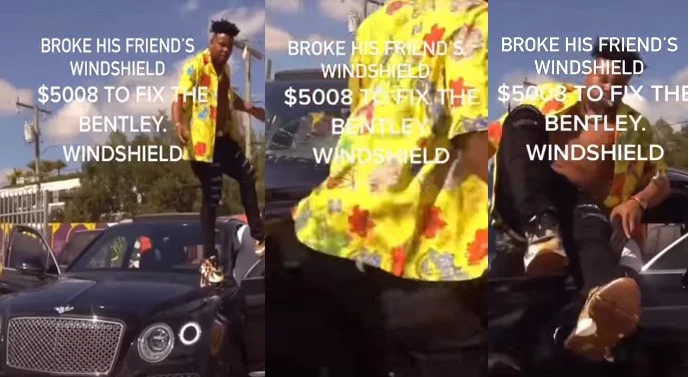 The artiste used to the whip to shoot a stylish video and a scene entailed him climbing on top to take a dapper pose.
However, as he was about stepping down, he sat down on the windscreen and mistakenly broke it in the process.
It as gathered that the friend informed him that it cost over 5000 dollars to fix the broken windshield, but it was not revealed how they sorted out the expenses.
See the video below:
View this post on Instagram
Reacting, qib_1111 wrote; Friendship worth more than $5k as long as we Dey flex together and it sup for my front unless if I don warn him before .
akinolatayo_; Omo nothing way anybody fit tell me I go arrest am
lgotdreams; Ah Omo!! Why he go stand untop the car? What for exactly?
everthinghopcy; You go mistakenly repair am nah who you wan put gbese for him head
oluwaseuntrey; Ain't going to do anything we go laugh am off
millymilly1952; If that is a $5000 windscreen then I don't want
focus_nacamora; Since he get money buy car worth that amount, I am sure is friend will be rich , if you no get money you not do that kind thing
teeps_luxury; Firstly, u no go climb my Bentley, shey u no de mad😂, if you wan even climb am sef, u must don dey signed with 30BG, so I go know who I go hold neck…