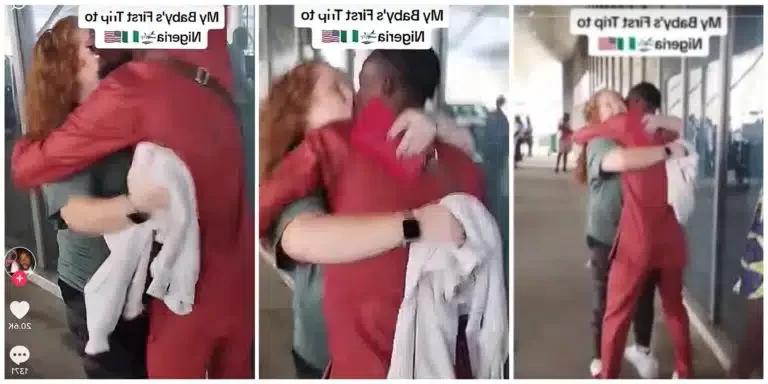 A Nigerian man was seen welcoming his Oyinbo lover to Nigeria for the very first time, capturing the attention and admiration of many online.
The couple's public display of affection at the airport and their subsequent shared moments were widely shared and discussed on social media.
The eagerly awaited reunion took place at an airport in Nigeria, where the Nigerian man, filled with excitement and happiness, embraced his American lover tightly.
Their genuine happiness and warmth towards each other were visibly evident, melting the hearts of onlookers and bystanders.
In a separate video clip shared by the couple, the American woman was seen actively participating in her man's daily life, as she assisted in hand-washing his clothes.
The Nigerian man patiently guided her through the process, teaching her how to scrub the clothes with her hands.
However, as with any public display of an intercultural relationship, the couple's videos generated a range of reactions from Nigerians.
Netizens Reactions…
@Lioness said: "Look at green card."
@diva_brenda said; "Why saying green card y'all? Someone can no longer love in peace? Jealous people everywhere.. Congratulations to u guys wishing you the best."
@psalmazuma said; "Please help find me one. Even if na dwarf hence she gat money.
@user6489463193161 said; "Good luck i hope its all real bcs it is for her."
@juanitavarnell883 said; "They say them Nigerian men treat ya right."
@Eric Djamen said: "Green card I am on my way."
@tammy Phillips said; "Congratulations don't let the evil of the haters break what you and your queen have together.
@codeinecrawford said: "oh yes there clothes are always so fresh and clean in my opinion only better than the washer and dryer."
See below;