Naija Gossip 247
Video: Man Sponsored Abroad By Girlfriend Caught In Hotel With Her Bestie After Returning
A young lady found out that her boyfriend whom she sponsored to do further his education abroad returned to Nigeria unannounced.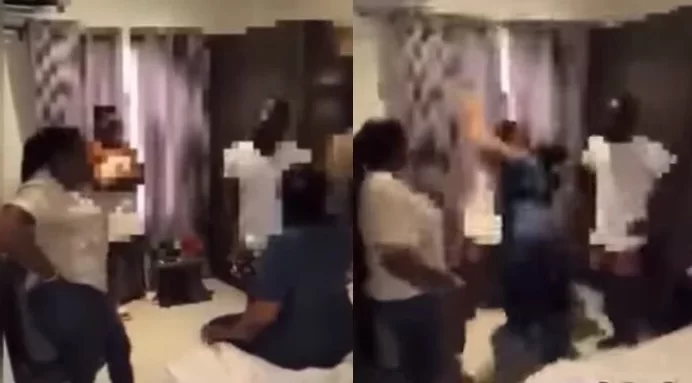 It was gathered that they have been dating for seven years and she funded his trip to the United Kingdom for his Masters programme.
She joined a thrift group and even borrowed money to send him to school but he reportedly said she cannot marry her because she is not a graduate.
The twist to it is that he returned without telling her and instead contacted her best friend to spend some fun time with him.
The two of them lodged together in a hotel and spent three weeks together before his girlfriend found out he was back in Nigeria.
She got information that the boyfriend she thought is still in the UK was spotted at a hotel in Uyo, Akwa Ibom state.
The girlfriend stormed the hotel with her friends and somehow located the room where he lodged. They pretended to be room service, and when he opened the door, they all barged inside and saw her bestfriend with a towel wrapped around her torso.
A video which surfaced online shows her descending on the best friend as her man tried to separate them and failed.
The bestie expressed displeasure with the way the guy's main girlfriend acted and it angered her even more that she went for the second assault.
Watch the video below:
View this post on Instagram