Education News 24
UNIUYO special Amnesty Programme, Students Admitted In 1999/2000 Session
The University of Uyo hereby wishes to notify the general public particularly persons who were admitted into the university from 1999/2000 academic session but were unable to complete their studies due to outstanding courses, that Senate of the University at its 123rd meeting held on Monday 28 November 2022, considered and Approved as SPECIAL AMNESTY PROGRAMME.
Those concerned are to note the instructions about the amnesty programme on the attached image.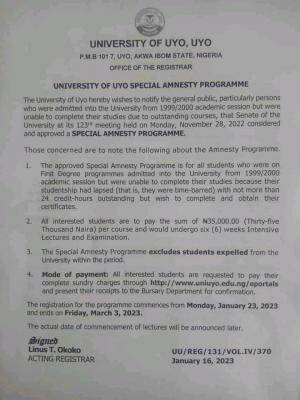 The registration of the programme commences from Monday 23rd January 2023 and ends on Friday 3rd March, 2023.
The actual date of commencement of lectures will be announced later.
SIGNED
Linus T Okoko
Acting Registrar