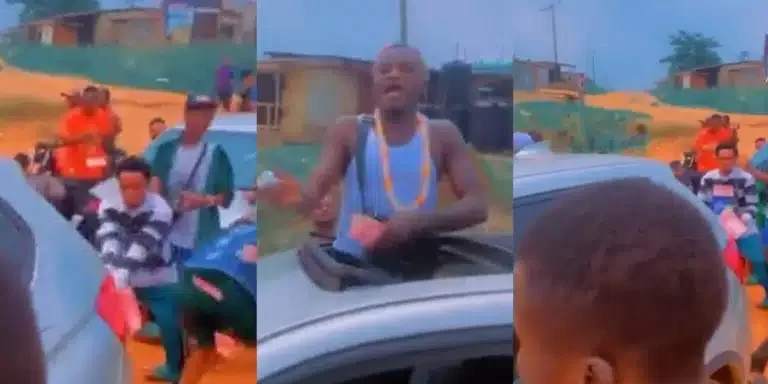 Nigerian singer, Portable, known for his unique style, was recently captured in a video generously spraying bundles of dollars and naira notes on a crowd in an undisclosed location shortly after returning from his Europe trip.
Habeeb Olalomi Oyegbile, popularly known as Portable, had embarked on a tour to the United States in September, which garnered significant attention from notable Nigerian news outlets.
He was accompanied by one of his wives, Ewatomi Omobewaji.
Just a few days after his return, Portable decided to give back to the community in his signature fashion by showering bundles of naira notes on the crowd.
The video, attached below, shows Portable unbinding bundles of dollars and naira notes, which he tossed into the cheering crowd as they gathered to receive the money.
This act has sparked reactions among Nigerians who have flooded the comments section to express their opinions.
See some reactions below:
@Jurell4l: "Where this guy Dey see money."
@Cruiselord___: "And i b pass that area today o."
@JamezThunderman: "Ogun state Michael Jackson no dey dissapoint."
@GodSon_Fx_Lord: "There are three things you can do with your life: You can waste it, you can spend it, or you can invest it. The best use of your life is to invest it in something that will last longer than your time on Earth."
@GodSon_Fx_Lord: "The future belongs to those who believe in the beauty of their dreams."
@Realtonyblack1: "A hood king and why he keeps trending."
@casmirozuruigbo: "Biza biza e don go collect. E de show lo e for the trenches."
WATCH THE VIDEO BELOW:
Portable makes dollars rain in the trenches after his Europe trip. pic.twitter.com/RuSgQULxuU

— YabaLeftOnline (@yabaleftonline) October 23, 2023