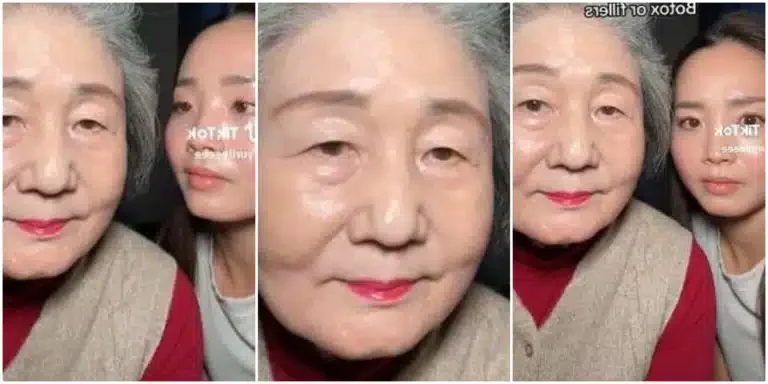 A TikTok user, @yurileeeee, charmed netizens with a glimpse of her 80-year-old grandmother's smooth and glowy skin in a viral video.
The grandmother's gorgeous complexion was highlighted in the film, which remained amazingly youthful and wrinkle-free.
The woman's beautiful skin, which captured many viewers, is proof of the power of natural beauty, which has defied the effects of aging.
Yurileeeee made it clear that her grandmother's exceptional skin is the product of a defined and persistent skincare program rather than any artificial cosmetic operations.
"She literally has the most beautiful skin I've ever seen. Glowy glass skin without Botox or fillers. She's been consistently doing her skincare routine forever", the proud granddaughter said.
This revelation shocked viewers and inspired love for the grandmother's dedication to preserving her natural attractiveness.
Netizens flocked to Yurileeeee's TikTok video, which drew significant notice and admiration. Viewers were taken aback by the grandmother's youthful appearance and perfect skin, applauding her for embracing her natural beauty and defying social notions of aging.
Read some reactions below…
@Lids said: "I'm sure it's hugely because she doesn't have Botox or fillers."
@caddie92 said: "Wow, no filter, and her skin is flawless like this. What?"
@Dels said: "No wrinkles, skin like milk."
@Teidi reacted: "The recipe, please."
@Lalala commented, "Ok, spill, grandma! diet/habits/ skin care etc!! we need to know!"
@LaRochePosayUS said, "Grandma looks STUNNING!"