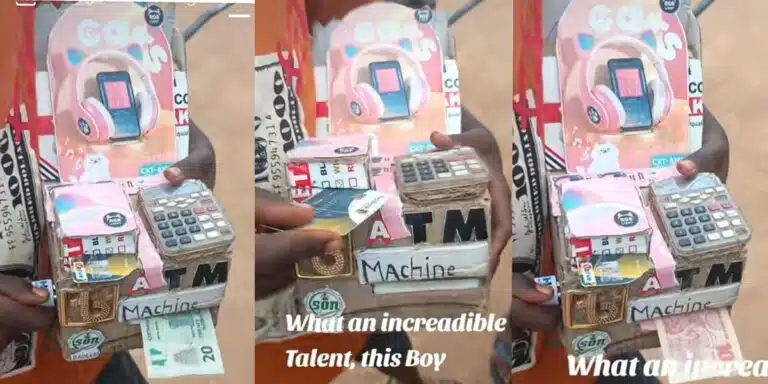 A talented Nigerian boy has garnered widespread praise on social media as a video showcases the ATM machine he constructed, demonstrating his ability to withdraw ₦5 and ₦10 with an ATM card.
In the video, captioned: "What an incredible talent, this boy constructed an ATM machine; this was live at Abakaliki," the boy is seen holding the machine.
The boy also possesses an ATM card and, seconds into the video, inserts the card into the machine, entering what appears to be the ATM pin.
Immediately, ₦5 and ₦10 are dispensed from the machine.
Upon witnessing this, many individuals flocked to the comment section to share their thoughts about the boy and his remarkable creation.
See some reactions below:
T.e.m.m.y_t: "‎Omor! This is pure talent."
QweenEsther8285: "‎the only thing working there is, that place that's dispensing the money."
tonnyschofield: "‎without card and pin money still come out connect battery n go."
Ytpickles: "‎why do you say atm machine when the m; means machine."
T£JUOLA: "‎make I sha no test am with my Atm make den debit me."
BiGRayne: "‎no need to put card or pin just put the battery. Nice work tho."
Nafiu Muhammed Musa: "‎Na electric motor dey blow the money comot o."
Fatima: "‎See people that are supposed to be invested on, sadly no one."
-Doyin hairline—: "‎Make them carry this boy far abeg this is talent."
PreshQueenBLB: "‎make this boy study mechanic engineering for school abeg. he has talent."
I_am_glad: "‎Nija no dey carry last."
Yung cruzer 18: "‎who dey barb hair, yah talented tho."
abakaribniabaka67: "‎Keep it going talent young man."
BIG JERR: "‎Rich man pikin go think say na poor man pikin push the money come outside."
Tonysmilechizy2: "‎The money dey comot double double na dorime atm be this oh."
WATCH VIDEO: