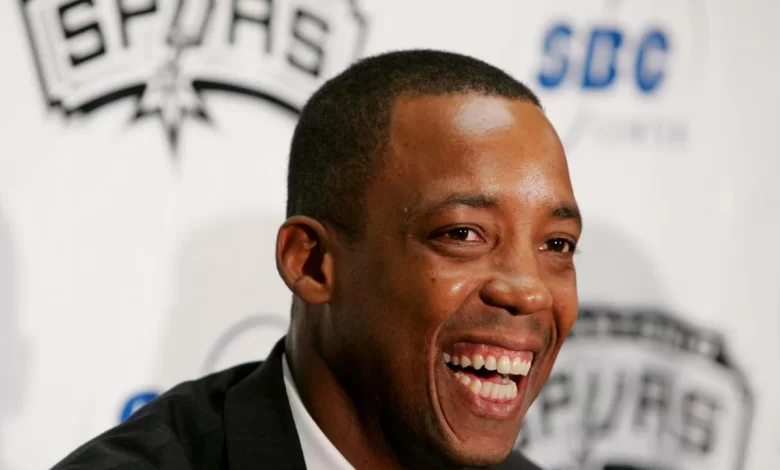 Sean Elliott Net Worth – Sean Elliott is an American former professional basketball player who played in the National Basketball Association (NBA) for San Antonio Spurs and Detroit Pistons as a small forward over a 12 year period.
According to Celebrity Net Worth, Sean Elliott has amassed a net worth of US$16 million. He made his wealth primarily from his basketball career, which span over a decade in the National Basketball Association (NBA).
Who is Sean Elliott?
Sean Michael Elliott was born on February 2, 1968 in Tucson, Arizona, United States. He is the youngest son of Odiemae Elliott and Robert Elliott. He has two brothers, including Noel Elliott whom he grew up along with.
Sean attended Gifted and Talented Education (G.A.T.E) program at the Tolson Elementary School. He later went to Cholla High Magnet (previously Cholla High School) School, where he played basketball on the city's west side.
Upon graduating from high school in 1985, Elliott enrolled to the University of Arizona, where he continued to play basketball. He was taught and mentored by Lute Olson, going on to become a Pac-10 Freshman of the Year.
During his junior and senior years playing collegiate basketball, Elliott led the Wildcats to the Final Four after being selected as a consensus all-American. He broke Lew Alcindor's (Kareem Abdul-Jabbar) all time Pac-10 career scoring record and still holds the University of Arizona's all-time leading scorer record.
For his exceptional senior season, Elliott won the Wooden Award. Elliott also starred for the US national team in the 1986 FIBA World Championship, where he won the gold medal with the team.
Elliott was drafted by the San Antonio Spurs in the 1st round, 3rd overall pick in the 1989 NBA draft. In his first season playing professionally, he started 69 out of 81 games, averaging 10 points per game. That year, the Spurs went over the Denver Nuggets in the playoffs only to lose out to Portland Trail Blazers who won the Conference Championship in 7 games.
After four seasons with the Spurs, Elliott was traded for Dennis Rodman in Detroit Pistons during the 1993-94 season. He had a tough season with the Pistons, leading to the team wanting to offload to the Houston Rockets but the deal fell through as Elliott failed his physical.
It was at time Elliott held a press conference and made a shocking revelation that he had kidney problem. He remained in Detroit for the remainder of the season before reuniting with his previous employers, San Antonio Spurs in 1994.
He starred for the Spurs again from 1994 to his retirement in 2001. He won the championship in 1999 after they defeated the New York Knicks in five games. In the playoffs, Elliott averaged 11.9 points in 17 games while shooting 40 percent from beyond the three-point arc.
Elliott had a kidney transplant on August 16, 1999 and made a return to the pitch on March 13, 2000 in a game against the Atlanta Hawks. He became the first the first professional athlete to return to his sport after the kidney transplant.
After the 2000-2001 season where Elliott played 34 games, helping his team to the finals with the best record in the league but lost to eventual champions Los Angeles Lakers, he announced his retirement in 2001.
He ended his career averaging 14.2 points, 4.3 rebounds, and 2.6 assists per game. Elliott is the fifth all-time franchise leader in three-point field goals made (563) and fourth for three-point attempts (1,485).
What is Sean Elliott's age, height and weight?
Former basketball player, Sean Elliott was born on February 2, 1968 in Tucson, Arizona, United States. He is 55 years old now. He stands at 6 feet 8 inches and weighs in at 100 kilograms (220 lbs).
What is Sean Elliott's Nationality and Ethnicity?
Sean Elliott is an American national. His ethnicity is Afro-American.
What is Sean Elliott's profession?
Sean Elliott is a commentator and former basketball player and basketball analyst.
What teams did Sean Elliott play for?
Over the course of his 12 year career, Sean Elliott played for only two teams. They are;
San Antonio Spurs
Detroit Pistons
When did Sean Elliott retire?
Sean Elliott announced his retirement in 2001.
Is Sean Elliott a Hall of Famer?
Yes, he is. Sean Elliott was inducted into College Basketball Hall of Fame in 2018.
Who are Sean Elliott's Parents?
Sean Elliott was birthed by Odiemae Elliott and Robert Elliott.
Does Sean Elliott have siblings?
According to reports, the former basketball player has two brothers The only known sibling of Sean Elliott is his elder brother Noel Elliott.
Who is Sean Elliott married to?
Sean Elliott is currently married to Claudia Brittingham, whom he tied the knot with back in 2001 after his divorce from his first wife. He was previously married to Akiko Herron from 1993 to 2000.
Does Sean Elliott have children?
Yes, Sean Elliott has three beautiful children. They are Jordyn Elliott, Jada Elliott and Tad Elliott.