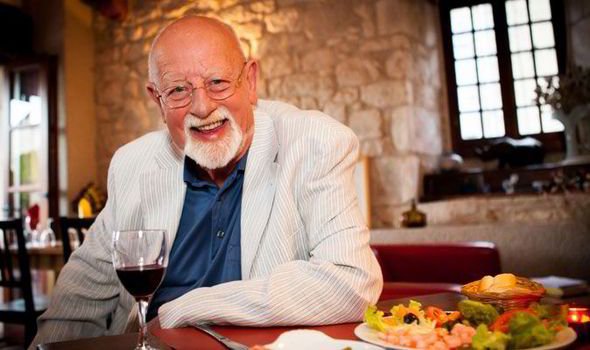 Roger Whittaker, a renowned British singer-songwriter and musician, was born on March 22, 1936, in Nairobi, which was then part of British Kenya.
Roger Whittaker Cause of Death
On September 13, 2023, Roger Whittaker passed away leaving behind a legacy of timeless music that continues to resonate with audiences around the globe. His cause of death is attributed to stroke.
Roger Whittaker Age
At the time of his death, he was 87 years old.
Roger Whittaker Family
His children are Jessica Whittaker, Guy Whittaker, Emily Clare Whittaker, Lauren Marie Whittaker, Alexander Whittaker, and Emily Whittaker.
Roger Whittaker Career
He was born to English parents, and his unique musical style combined elements of folk music and popular songs, making him a versatile artist. Whittaker was celebrated for his deep baritone singing voice, remarkable whistling ability, and proficient guitar skills.
One of the songs that brought Whittaker international recognition was his rendition of "Wind Beneath My Wings" in 1982. Additionally, his own compositions like "Durham Town (The Leavin')" in 1969 and "I Don't Believe in If Anymore" in 1970 showcased his songwriting prowess. American audiences may be most familiar with his 1970 hit "New World in the Morning" and his 1975 hit "The Last Farewell." The latter, in particular, stands out as his only single to reach the Billboard Hot 100, where it achieved a place in the Top 20 and also soared to No. 1 on the Adult Contemporary chart.
Roger Whittaker's musical journey took an interesting turn as he gained immense popularity in Germany from the 1970s onwards, performing in the German language. Despite not being fluent in German initially, he sang these songs phonetically, and they resonated with German audiences, earning him a devoted fan base in the country. Whittaker's success in Germany was such that he released 25 albums there.
Whittaker's early life was shaped by his family's background. His parents, Edward and Vi Whittaker, originally hailed from Staffordshire, England, where they operated a grocery shop. A pivotal moment in his life occurred when his father was involved in a motorcycle accident, prompting the family to move to a farm near Thika, Kenya, due to the milder climate. Music ran in the family, with his grandfather being a club singer and his father playing the violin. Roger Whittaker himself learned to play the guitar during his upbringing.
After completing his primary education, Roger Whittaker attended Prince of Wales School (now Nairobi School). Following his high school education, he was called up for national service and spent two years with the Kenya Regiment, where he was involved in combating the Mau Mau insurgency in the Aberdare Forest.
Roger's journey eventually led him to Britain in September 1959, where he embarked on a path of higher education and a burgeoning music career. Over the next three years, he pursued studies in zoology, biochemistry, and marine biology at the University College of North Wales while performing in local clubs. During this time, he released songs on Flexi discs that were included with the campus newspaper, the Bangor University Rag.
Whittaker's professional music career took off when he signed with Fontana Records and released his first single, "The Charge of the Light Brigade," in 1962. He went on to achieve a breakthrough in Northern Ireland when he appeared on Ulster Television's show, "This and That." Over the years, he transitioned to EMI's Columbia label and began billing himself as Roger Whittaker. Hits like "Durham Town (The Leavin')" and "New World in the Morning" solidified his place in the music industry.
In the early 1970s, Roger Whittaker ventured into the Nordic countries by recording "Where the Angels Tread" (Änglamarken) in 1972, a song set to the music of Evert Taube. He even made an appearance at the Finnish Eurovision qualifications in 1974, becoming known for "The Finnish Whistler," which was featured on a popular Finnish television cooking program.
"The Last Farewell" in 1975 emerged as Roger Whittaker's biggest hit, selling over 11 million copies worldwide. His popularity extended to the United Kingdom, where he participated in the Eurovision selection process with the song "Call My Name" in 1979.
Throughout the 1970s and 1980s, Whittaker's success in Germany was undeniable, even though he initially faced criticism from some music critics. His German-language songs, despite being phonetically sung, resonated with audiences, and he built a strong following in the country.
In March 2006, Roger Whittaker announced that his 2007 tour of Germany would be his last, and he intended to limit future performances to occasional concerts. Despite retiring from touring in 2013, he continued to be musically active, even writing new songs for an album.
Roger Whittaker's remarkable musical journey left an indelible mark on the world of music. His talents, ranging from his captivating baritone voice to his extraordinary whistling skills, will be remembered by generations of fans.
Roger Whittaker Net Worth
Roger Whittaker had an estimated net worth of $18 million