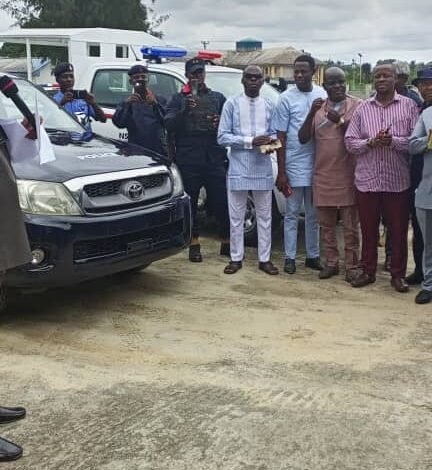 The Attorney General and Commissioner for Justice in Rivers state, Zacchaeus Adango has applauded Andoni Area Council Chairman, Brr Erastus Awortu, for donating patrol vehicles to strengthen security and logistics at the grassroots.
Adango made the commendation Thursday at Ngo, the Council's Headquarters during an official presentation of two Security Patrol vehicles to the Nigeria Police and Nigeria Security and Civil Defence Corps (NSCDC) to strengthen security in Andoni and its environs.
Also presented was a utility Bus to the National Union of Andoni Students (NUAS), which was said to be the oldest ethnic students' body in that area.
Handing over the vehicles to ACP Isah Gumel and AC Haruna James who took delivery on behalf of the police and NSCDC respectively Adango said "there was need for the stakeholders' to collaborate."
According to him, the three tiers of government must join hands in providing logistics to enhance effective policing and security of lives and properties.
He added "I want to thank the chairman of Andoni, Erastus Awortu, for rising up to the occasion and realising that he has a constitutional responsibility.
"This donation will go a long way to supporting logistics and strengthen the security operations in the area," he said.
He, however, urged beneficiaries to ensure effective use of the facilities to promote security especially within the area council.
Earlier, the council Chairman, Brr Awortu, had enjoined politicians to desist from politicising security matters even in their quest for leadership positions.
He noted that the council had so far achieved commendable success in crime reduction through synergy with the various operatives deployed to the area.
"I want specifically to say that security is an important business, nobody should apply sentiment or play politics with it; let us build Andoni for our collective good by providing intelligence to strengthen operations''.
Meanwhile, Dr Isaac Iragwunima, Medical Practitioner and Patron of NUAS, Mr. Anni Dan, President of the body took the delivery of the utility bus on behalf of the union.