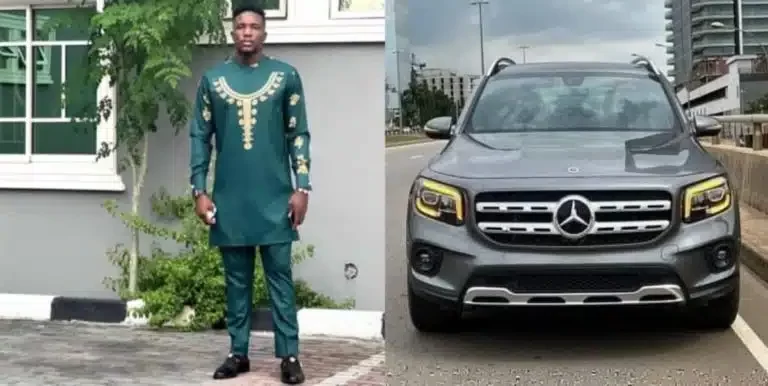 Following the public announcement of the incident, the police have successfully apprehended a man who had previously absconded with a Mercedes Benz worth millions of naira.
The Federal Capital Territory (FCT) Police Command had disclosed their ongoing efforts to locate the stolen Mercedes Benz GLB 250, which was taken by an individual posing as a customer in Abuja.
According to additional reports, Mohammed Manga, a car dealer, had raised the alarm after a suspect known as Henry, who disguised himself as a customer, fled with the vehicle during a test drive.
Mohammed explained that one of his fellow car dealers had entrusted the Mercedes Benz to Henry, who claimed to be a potential buyer.
Unfortunately, trouble arose when Henry requested to test drive the car.
To the dismay of the car dealers, Henry swiftly accelerated and escaped with the vehicle, remaining hidden thereafter.
Approximately three days later, Mohammed reported the incident to the police.
However, there is now news that Henry, the customer-turned-thief, has been apprehended by law enforcement.
A social media user shared the update, stating, "Do you all remember this car that was stolen from Abuja while it was being test-driven? The thief has been caught in Asaba."
See some reactions below:
Duke of Africa: "My question is how did he pass all the multiple police checkpoints from Abuja down to Asaba?"
Dean of violence: "The Benz wey this Asaba self too much. Any small thing Benz, Any small thing Benz, werey won kon oppress Okpanam road boys, DLA girls, DBS babes, Anwai road girls, he wan shut down Don and Masters, werey wan oppress for Xhrine, he wan come pack for ShopRite car park."
Alfoor: "Police is not the issue here, customs is the issue. How did he move past the numerous checkpoints without license plate."
Ola: "You are asking how he passed, police get scared of stopping this type of cars. You can't see ordinary citizen driving this type of car, only few can afford it."
Diamond: "Mama always praying for the grind to pay and now the grind have paid' see ya serious Bf wan oppress us for this our small ASABA wey we dey manage he test run car from Abuja reach town with no down payment."
SEE POST: