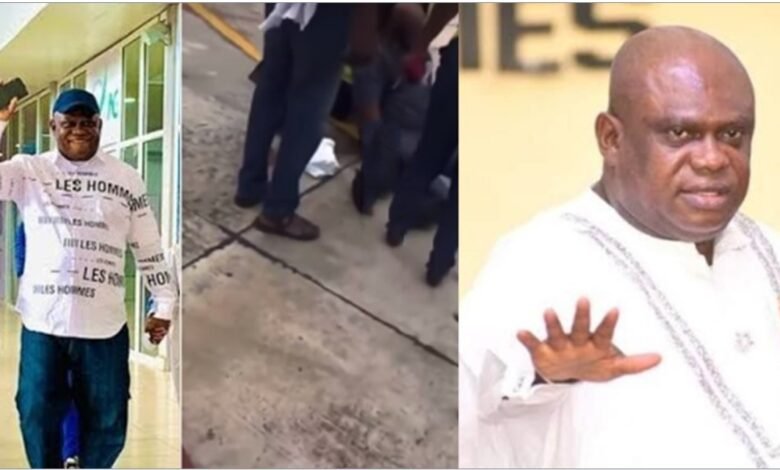 General Overseer of Omega Power Ministries, Apostle Chibuzor Chinyere has landed in the hospital due to an undisclosed medical issue.
He reportedly collapsed at the airport and was rushed to a nearby hospital where he is said to be battling for his life.
A sensitive video circulating on social media shows airport officials trying to revive him after he fainted on the tarmac.
The church is yet to release an official statement on the matter, but it shared a photo of Apostle Chibuzor on the hospital bed and called for prayers.
"Please let us all endeavor to put our Father in the Lord in our prayers," OPM wrote on Facebook.
See the airport video below:
View this post on Instagram
Well meaning persons prayed for the pastors quick healing and recovery.
Wilson Osung; Be healed In Jesus Christ name-Amen
Goretti's Campaign; God bless and keep you sir and may He grant you quick recovery in Jesus name Amen
Princessiyoha Fred Osagie O; May Almighty God send his word and heal you now in Jesus name amen
Obidency Ifeanyi; Get well quick sir. May God continue to be your strength sir.
His-Priest E. Bassey; U wish you a Speedy recovery sir
Oluwafeyisayo Anike Ogunjobi; Arise with the strength 💪 and the power of the Holy Spirit .Amen 💪 🙌 👏 ✨️ ❤️ 🙏 💪 🙌
Femi Samuel Elukoye; Let the mighty hand of God rest on you for quick recovery and healing IjN
Kingdom Uchenna Okolie; May the Lord stretch his hand of healing upon you sir, fast recovery on you sir.
Moses Evans Chinedoziaku; Daddy Divine healing is your inheritance.it's stress, you need rest Daddy.