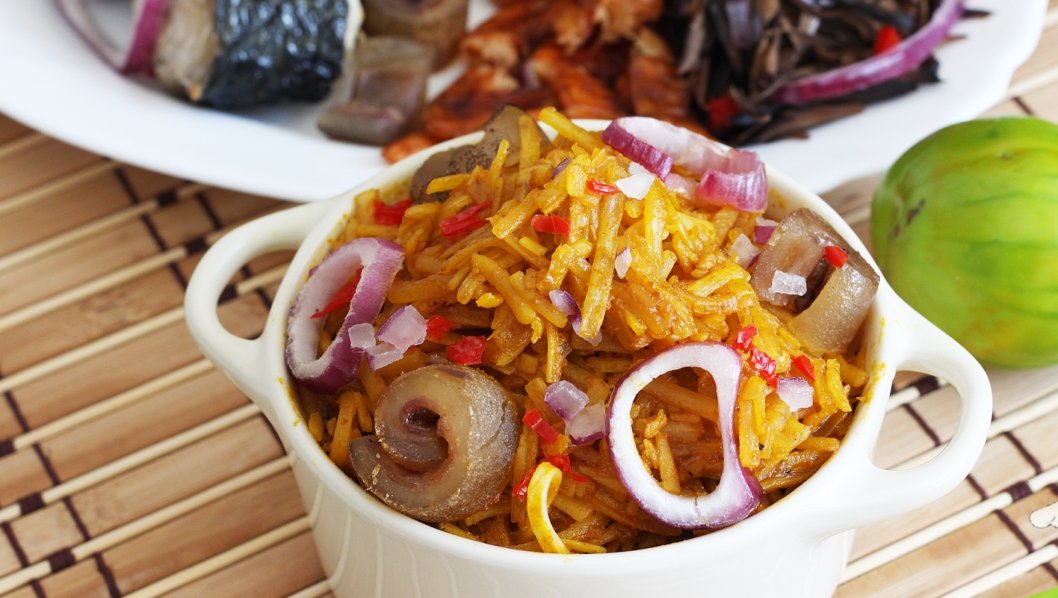 This weekend, Naijapary.com.ng will like to show you how to prepare the nutritious African Salad from the Eastern part of
Nigeria.
African Salad is a traditional meal of the Igbo people popularly called Abacha. It is made with dried shredded cassava and anyone making the dish can determine how tasty it is by adding ingredients of their choice.
Here are the Ingredients needed to prepare African Salad
Abacha 600 grams
Ugba (ukpaka) 2 cups
Palm oil 1 cup
Powdered Potash 2 tablespoons
Fish (Mackerel/Dry Fish/Stockfish) Either cooked or spiced
1 large Onion, chopped
Salt and dry pepper (to taste)
Ground crayfish 4 tablespoons
Seasoning
Ground Ehu seeds (Calabash Nutmeg) 1 teaspoon
Boiling water
Here are other ingredients that are optional:
1 teaspoon Ogiri / Iru
Fresh Utazi leaves (Gongronema latifolium)
Ponmo, cooked and sliced
6 Garden Eggs, diced
Garden Egg leaves, finely chopped
1 medium onion (for serving), sliced
How to Prepare African Salad
– Soak the abacha in cold water for 10 minutes until it becomes soft.
– Drain out the cold water, pour boiling water over it and drain it out fast.
– Rinse the ugba/ukpaka in warm water and set aside.
– Let it sit in a colander for about 5 minutes.
– Dissolve the potash in water and sieve out the water, then stir the potash water with the palm oil in a pot. It will then become a yellowish paste.
– Place on heat and add the ground ehu, pepper, crayfish and seasoning.
– Stir properly then add the ground ehu, crushed stock cubes, crayfish, diced onions, and ugba/ukpaka. Put off the heat.
– Add the ogiri and mix properly, then add the fish and ponmo.
– Add the abacha and mix properly allowing all the ingredients to blend.
– Add sliced utazi and salt to taste.
– Garnish with chopped garden egg leaves and sliced onions. You can enjoy delicious African salad either cold or warm depending on how you prefer it.