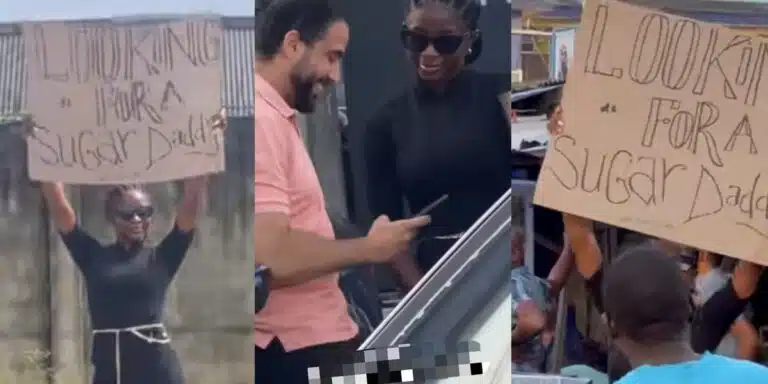 A Nigerian lady named Meyiwa_Vera on TikTok made a bold move by parading the streets with a placard that reads "Looking for a sugar daddy."
This action has garnered significant attention on social media, with many people commenting on her post.
Ngnews247 had previously reported similar incidents involving the same TikTok user, Meyiwa, who marched down different streets with various placards that read "Looking for money to buy a Benz," "Looking for a husband," and "Looking for money to buy an iPhone 15 Pro Max."
Despite her previous endeavors, she has once again taken to the streets in search of a sugar daddy.
Concerned individuals have flooded the comment section of her post to share their opinions.
See some reactions below:
Zeezahhh: "‎Me and you know that it is only that white man you gave your correct number."
simply_niola: "‎Na my grandpa be that man wey wear Ankara. always claiming he's a strong machine."
Charles Emmanuel: "‎Omoh hold that Oyibo tight bcuz if him slip for ur hand' Ur fellow gender go rush am.. U no know nah."
Melody: "‎that man on Ankara is my neighbor wife , I have catch him today, he go explain himself tire if I don go do Aproko tell him wife."
Fløxïë: "Even people wey no reach pet son dey come to collect number. wahala."
Latty baby: "‎The woman on white definitely preached to you."
gwendolinesanji: "‎this girl say sugar daddy and bitter leave boys are coming."
kemifemi124: "‎Did I just see u taking selfie with a button phone."
Shanice: "‎Crazy thing is they don't have money they just want to disturb you."
Zainab: "Some people with audacity ehn that first- man in Ankara."
WATCH THE VIDEO BELOW: