Controversial journalist, Kemi Olunloyo, opens up on her reasons for going after the mourning singer, Davido, and his fiancee, Chioma Rowland.
This comes days after the investigative journalist did an exposé on the family who just lost their son and the reason for the 'curse' trailing Davido.
In a post via her Instagram page, Kemi Olunloyo revealed that she held a grudge against the singer for calling her unprinted names over the years.
Kemi emphasized that it was humiliating and personal to her because she raised Davido when he was a child.
While sharing some offensive tweets from the singer over the years, she wrote;
"IT TOOK A VILLAGE TO RAISE DAVIDO
Nobody know the hurt of being disgraced in front of 7M on Twitter. It is now 4 years. I can't let go. I changed your diapers, fed you and 27 yrs later I'm a cheap drug user, mad woman and should go oil my pussy. I haven't seen David since his mom's funeral at 10yo." 
She continued, "Davido's fans don't know my feeling. Many wonder what he's done to me for years and thought I was just obsessed with him. Now you know. Will you let one big rich musician talk to your mother like that? NO‼️ But it's OK for Madam Kemi Olunloyo?
October 20th is a day I will never forget. He can't forget either.
To people supporting this disrespect
Money can't buy Life‼️"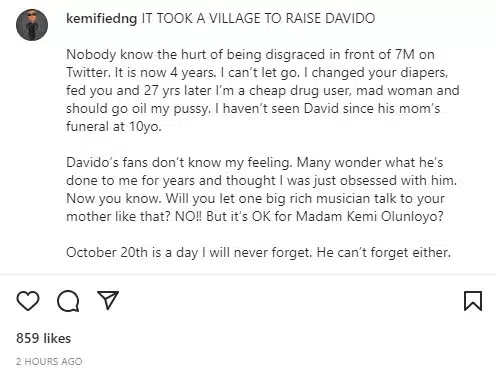 See the snapshots she shared below …