The Nollywood popular diva Actress Chinenye Nnebe is the daughter of a movie Costumier and film producer known as Uche Nancy. Many people might not be aware that the pretty Actress has many other sisters, three to be precise that were born before her. So it simply means that she is the last child of the movie producer Uche Nancy.
People think that she is the only one who is into acting of Nigeria movies. No, she has three older sisters and out of the three of them, one of them who happens to be the first child and eldest sister of them all is also into acting movies.
Yes, actress Chinenya Nnebe is Sonia Uche's younger sister, both are Nollywood actresses courtesy of their mother, Nollywood producer Nancy Uche.
This is Chinenye Nnebe and her elder sister Sonia Uche. Don't they look alike and very beautiful?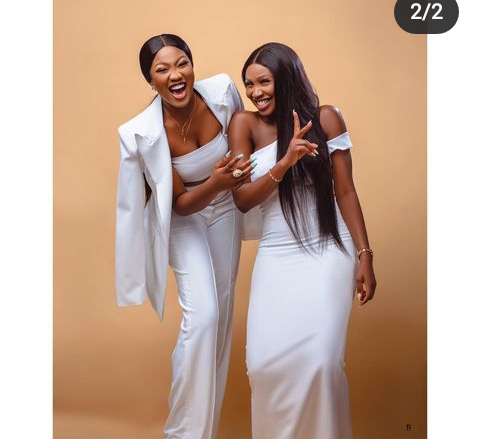 The name of the sister of actress chinenye Nnebe is Sonia Uche. She is indeed a damsel and a paragon of beauty just like her younger sister Chinenye Nnebe. Sonia Uche also plays her roles well, she is highly talented and has acted so many films. Her full name is Ihuoma Sonia Uche.
Although, they have two other sisters ,the second and third child who are into other things not acting. They have a wonderful family.
See The picture of their lovely family below: