Ibrahim Chatta Net Worth: is estimated to $2 million USD Dollars. Ibrahim Chatta is a prominent Nollywood actor, singer, creative script/songwriter, director, and producer.
Ibrahim Chatta Profile
| | |
| --- | --- |
| Name: | Ibrahim Chatta |
| Real Name: | Ibrahim Abiodun Chatta |
| Age: | 52 years (2022) |
| Date of Birth: | 13th October, 1970 |
| Tribe: | Yoruba |
| State of Origin: | Kwara State |
| Wife: | Olayinka Solomon (Div.), Salamatu Mohammed Lafiaji (Div.), Lizzie Berry |
| Net Worth: | $2 Million |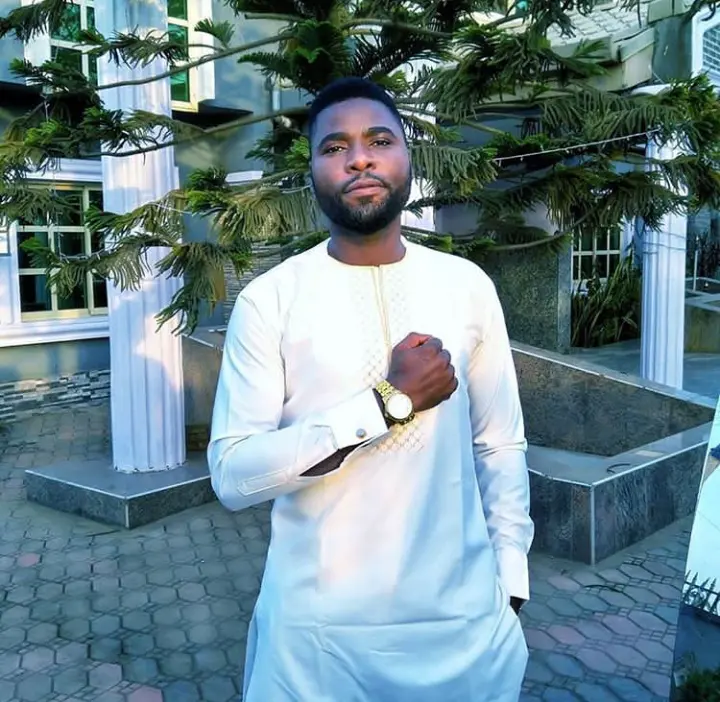 Ibrahim Abiodun Chatta is a successful Nigerian actor, producer, and director. He is of descent of Tapa, Nupe ethnic group while his mother is from Modakeke, Osun State. He was birthed on the 13th of October, 1970 in Bachita, somewhere located in the Edu Local Government Area of Kwara State.
Ibrahim Chatta Education
Also, Ibrahim Chatta as a child was known for his troublemaking, unruly behavior, and fighting all around the neighborhood which adversely affected his education. He finished his primary education at Saint Bridges Catholic primary school, Bachita.
Young Ibrahim successfully obtained his first leaving school certificate and proceeded to the Government Secondary School which was still in Bachita. He suddenly has to relocate to another Tapa region, Aggiea, Niger State due to his stubborn behavior.
He was therefore enrolled in another school, Dende Secondary School Aggiea, but he, unfortunately, dropped out. However, he has since then learned from online courses and programs.
Ibrahim Chatta Age
The Yoruba actor legend was born in 1970, October 13 which makes him currently 51 years old as he will be clocking 52 on the 13th of October, 2022.
Ibrahim Chatta Parents
Ibrahim Chatta was born in a small town in Kwara State known as Bachita, Edu Local Government. He is a Yoruba and belongs to the Tapa ethnicity.
Also, He is from a large Muslim family of 14 children. Ibrahim's father was a polygamist who married 3 wives during his lifetime and he had a mother who came from Modakeke in Osun State.
She reportedly died after living 25 years of her life suffering from diabetes until she died in 2018. There's been no news about Ibrahim Chatta's siblings.
Ibrahim Chatta Career
Ibrahim Chatta is an actor by profession and he's known for his talent to act distinctively in whatever role he is asked to play. He loves theatre plays since his teenage days and always attends such shows when there was a theatre group in his hometown.
Ibrahim was chanced to some legendary actors perform, they include Adebayo Salami (Oga Bello), late Duro Ladipo, and Ray Eyiwunmi (Baba Ray).
Furthermore, Ibrahim officially started his career in 1985. Even though he is of Tapa descent, his ways of using the Yoruba language are outstanding, his fluency and mastery of Yorùbá paved way for him today in his successful career as a Yoruba actor. The movie that rose him to fame was "Aiyekooto".
Singing Career
Ibrahim is not only an excellent actor but a talented singer with amazing vocals. He has reportedly performed over 100 soundtracks and several commercial jingles in the Yoruba language. He has performed with notable artists such as Alhaji Abdulkadir Alayande (Ere Asalatu) and many more.
Ibrahim Chatta's Songs
My Money
Friday Night.
Area
Boom Boom Boom.
Ibrahim Chatta Movies
Ibrahim Chatta has featured in over 200 movies alongside top Nigerian actors and actresses such as Odunlade Adekola, Adebayo Salami, Mide Funmi Martins, Femi Adebayo, and many more. Some of his hit movies are:
Ogundabede
Aye Dudu
Omoyagba
Olokiki Oru: The Midnight Sensation
October 1
Mafisere
Eberu Adigun
Mafi Won
Òréré layé
Atini O'go
Olo
Awure Eni
Omin
On Baku
Irawo Oke
Leyin Igbeyawo
Akisa
Aiyekooto
Amongst Others
Ibrahim Chatta Awards and Nominations
Ibrahim Chatta is an award-winning actor who has won several awards. His awards include:
Best Actor, in the 2021 Dallas International Yoruba Movie Awards (DIYMA)
The 2020 Nigerian Canadian Celebrities Entertainment Awards for his contribution to the Nollywood industry.
The Best Actor of the Year, in the 2012 City People movie award (Yoruba)
Best Supporting Actor in a Yoruba film (Ifa Iwa) – In 2013 5th Best of Nollywood Awards
Best of Nollywood Awards for the 2012 Best Actor in a Supporting Role.
Ibrahim Chatta Wife
How many wife did Ibrahim Chatta have? Ibrahim Chatta first wife: Ibrahim Chatta has reportedly been married three times. He was first married to Olayinka Solomon and they had together a child named Malik but the couple divorced with the wife accusing him of wife battery which he strongly denied.
Ibrahim Chatta second wife: Subsequently, Ibrahim Chatta tied the knot with another woman, Salamatu Mohammed Lafiaji, a Senator's daughter in Kwara State. The duo had their traditional marriage in 2012, December 30.
Salamatu reportedly left him after revealing that she found out Ibrahim was a womanizer and a gold digger. She further said he was a woman beater and his constant beatings resulted in her miscarriage. Ibrahim Chatta denied the allegations and narrated that their divorce was caused because there was no trust in their union.
Ibrahim Chatta third wife: In addition, being labeled a wife beater made Ibrahim lose several endorsement deals. Currently, Ibrahim is lawfully married to Lizzie Berry. The couple got married on 2016, October 1st. Following their marriage, Lizzie gave birth to Ibrahim's second child.
Ibrahim Chatta Net Worth
Ibrahim Chatta is a talented and successful actor who had appeared in numerous movies. Aside from that, he is a singer with a wonderful voice. So far, Ibrahim Chatta has been making his money from acting, producing, directing, and signing endorsement deals. He has an estimated net worth of $2 million making him one of the richest and most influential in the industry.
Thank you very much for reading Ibrahim Chatta Biography And Net Worth to the end, please do us good to share this article among friends and family on various social media platform. Before you go It might Interest you to read Biography And Net Worth.