Celebrity Death
How Did Stacey Pack Die? Singer David Pack's Wife Cause of Death Explained
The former lead singer of 70's mellow rock band, Ambrosia mourning the loss of his beloved wife who passed away recently. Our thoughts are with David Pack, as the legendary recording artist, announces the passing of his wife, Stacey.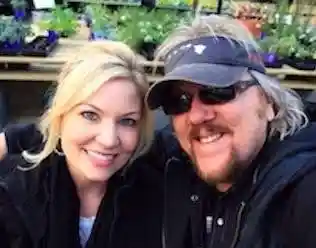 What Happened to David Pack's wife?
David Pack announced the passing news of his lovable wife Stacey Pack on his official Facebook page and the statement reads the following,
My wife, best friend, muse, and mother of our son Jackson (17) has died after a courageous 5-year battle with metastatic breast cancer. Only 50, she was more than extraordinary…and without her, I feel as if my life preserver has been taken away as I drift out into the open sea.
In my eyes, she was the most beautiful woman God ever created. She had no idea just how beautiful she was because of her humble and sweet spirit.
Dancing with angels, free from this broken world, we have committed her soul to our Heavenly Father late Thursday night, surrounded by friends, family, and prayers from Pastor Rick Warren and Ken Foreman.
Stacey Pack, who cofounded Ambrosia and wrote and sang the lyrics to some of the group's biggest singles, including "How Much I Feel" and "Biggest Part of Me," said that her "Stacey Pack Best Life Cancer Foundation" would be a part of her legacy of love.
The only organization of its kind in the world, it was founded in 2019 with the assistance of Michael & Amy McDonald and other friends to support fellow professional recording artists and musicians fighting cancer.
As per David's statement, it was revealed that his wife Stacey died after a courageous 5-year battle with metastatic breast cancer.
Another statement reveals her cause of death as follows, It's with a heavy heart that I have to say that a couple of days ago I lost my beautiful sister Stacey Pack (Vann) to cancer. She was living the life and cancer took her.
She had a wonderful life in California with her husband David Pack and Son Jackson. I will miss those texts on Christmas, Birthdays, and other holidays. RIP Sis!! I Love You, Stacey!!
About Stacey & David Pack Life story
When my wife Stacey was diagnosed with cancer in 2019, realizing we are both cancer survivors, we felt passionate that our mission should be to provide help where none exists, artist-to-artist, in our music and entertainment community. —David Pack
Stacey and David met 20 years ago, and immediately found they had a common love of music and a shared faith. Stacey moved from her native Annapolis, MD to California, and the couple was married in Kauai (their mutual "happy place") 17 years ago.
After the birth of their son, they moved from Manhattan Beach to South Orange County CA, inspired by Rick Warren's amazing book Purpose Driven Life. They joined Saddleback Church and remained there for a decade of service.
Then in 2015, they moved to Napa Valley inspired by David's Napa Crossroads CD – all composed and recorded in this awe-inspiring region. They lived there for 6 years with their son Jackson, now 16.
Stacey Pack's Cancer
In July 2018, at the age of 46, Stacey suspected something unusual in one of her breasts, but after a routine mammogram she was told not to worry – it was likely a cyst, perhaps related to dense breast tissue.
Shortly thereafter she developed debilitating shingles on one side of her face and inner ear. Because of complications and the long recovery time she was distracted from addressing her growing concern over her breast.
In Dec. 2018, following her instincts, she persisted and pushed her doctor for another mammogram, and was again told that the result was clear. Unsatisfied, Stacey insisted on a sonogram. This finally and sadly revealed that something indeed was not right – she had breast cancer.
She started aggressive treatment in Feb. 2019 under the care of UCSF B.C. pioneer & immunotherapy expert Dr. Laura Esserman, with a team that included oncologist Dr. Michelle Melisko, and radiation expert Dr. Joanna Yang.
Diagnosed with Triple-negative breast cancer
They determined she had triple-negative breast cancer, and it was more advanced than one would hope; but after 18 months of chemo, surgery, and radiation, she was told everything was successful and she was cancer-free.
Stacey continued with follow-ups even during COVID and was told each time that her test results were clear. After 2020, with the music business & touring shut down for David, Jackson has had his first year of high school lost to mostly virtual study, and Stacey still building back her strength, the Packs needed a time of complete rehabilitation as a family.
In July 2021 they packed their lives into shipping containers and moved to their happy place of Kauai (along with their family dog Winston) to live their dream.
Just as they were beginning to find the healing they all needed, only a month after the move, Stacey started having very sharp pains in her upper right back. The pain grew so quickly that she could hardly stand up, so she contacted her oncologist and got an MRI.
The results in early September were terrifying: cancer had metastasized to her upper spine. The family would need to fly to San Francisco and immediately get her into UCSF Medical Center. Stacey underwent a full course of radiation, and molecular bloodwork determined the specific gene mutation responsible for the new cancer.
They will now (Nov. 2021) work with her doctors to determine the proper course of action (chemo, immunotherapy, clinical trial, etc.) and figure out where they will have to live while she receives treatment to get better. Check back to spbestlife.org for more info.