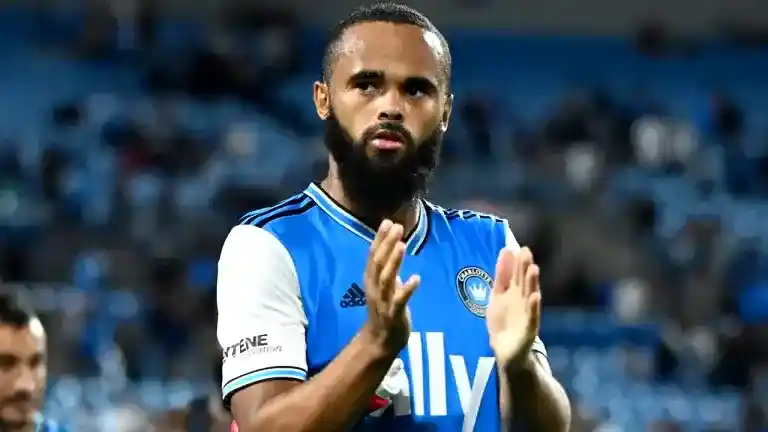 Celebrity Death
How Did Anton Walkes Die? Former Tottenham Player Cause of Death Explained
Anton Walkes of Major League Soccer's Charlotte FC team passed away after colliding with a boat on Wednesday near Miami Marine Stadium.
Anton Walkes, a former midfielder for Tottenham and Portsmouth, passed away after a terrifying boat accident. The football player, who passed away tragically at the age of 25, was playing for MLS team Charlotte FC after spending two years at Atlanta United in the US.
Charlotte FC and Tottenham Hotsput announced the devastating news on Thursday morning.
We are deeply saddened to share that Anton Walkes has tragically passed away this morning.

May he rest in peace. pic.twitter.com/8oUcHvWW6g

— Charlotte FC (@CharlotteFC) January 19, 2023
Charlotte's sporting director Zoran Krneta added:
"We are heartbroken from the loss of Anton Walkes, a truly incredible father, loving person, and outstanding human being.
"Anton embodied what it means to be a part of Charlotte Football Club and our entire community is grieving over this tragedy.
"The impact he made in the locker room and throughout Charlotte will never be forgotten. We are thinking of his lovely family during this time and will support them fully in every way imaginable."
Charlotte FC owner David Tepper added:
"Everyone at Tepper Sports & Entertainment is devastated by the tragic passing of Anton Walkes.
"He was a tremendous son, father, partner and teammate whose joyous approach to life touched everyone he met.
"Anton made those around him better people in all areas of life and represented Charlotte FC to the highest standard both on and off the pitch.
"He will be greatly missed by many and our thoughts and prayers are with Anton's family during this heartbreaking time. The Club offers its full support to all those impacted during this period of mourning."
We are deeply saddened to hear of the passing of former player, Anton Walkes.

The thoughts of everyone at the Club are with his family and friends at this incredibly sad time 💙 pic.twitter.com/NCPvFU4A6v

— Tottenham Hotspur (@SpursOfficial) January 19, 2023
Anton Walkes Boat Crash:
On Wednesday afternoon, two boats collided close to Miami Marine Stadium; the 25-year-old was verified as one of the injured.
According to the Florida Fish and Wildlife Conservation Commission, Walkes was in critical condition on Wednesday afternoon after two boats collided close to Miami Marine Stadium. He was discovered unconscious, and Miami Fire Rescue performed CPR on him, according to The Miami Herald.
Unfortunately , Walkes passed away on Thursday.
Who was Anton Walkes?
Anton Charles Walkes was an English professional footballer.
Anton Walkes, the native of Lewisham, England, joined Tottenham of the English Premier League to start his professional soccer career at the age of 16. He spent two seasons with Atlanta United of Major League Soccer and two seasons with League One's Portsmouth of England after a brief stay there.
Later, Charlotte FC selected him in the 2021 expansion draught. In the first season of the Queen City club, he started 21 of 23 games, contributing crucial toughness and stability to the defence during a rollercoaster season on the field.
Tottenham Team
Walkes joined Tottenham Hotspur in July 2013 and made his professional debut there. On September 21, 2016, he made his first team debut against Gillingham in the EFL Cup, entering as a substitute in the 80th minute of a 5-0 triumph.
In the UEFA Youth League group stage, Walkes made three appearances as captain, twice facing Bayer 04 Leverkusen. He extended his contract with the team for a further two years on September 27, 2017, keeping him there through 2019.
Following his time on loan with Atlanta United, Walkes briefly joined the reserve team before being shipped out once more.
Atlanta United Team
Before the club's debut season on January 26, 2017, Walkes joined Major League Soccer team Atlanta United. As a late substitution in Atlanta United's season-opening loss against New York Red Bulls (2-1), Walkes made his debut for the team, however, he soon scored an own goal.
Walkes immediately reclaimed his first team spot for the side, establishing himself in the right-back position, despite his injury concerns and an early start on the substitute bench. On July 5, 2017, in a 4-2 victory over San Jose Earthquakes, he then scored his first goal for the team.
His loan with Atlanta United was extended until the end of the campaign on August 1. For the remainder of the campaign, he kept regaining his position. Then, on September 14, 2017, Walkes scored his second goal for the team in a 7-0 victory over the New England Revolution.
After making 20 appearances and scoring twice across all competitions, Walkes returned to his parent club after the 2017 campaign. He felt his spell on loan at Atlanta United helped him advance to first team football as he looked back on his time there.
Portsmouth Club
Walkes signed for Portsmouth on a loan in January 2018. On February 3, 2018, in a 2-2 draw with Doncaster Rovers, he scored on his debut for Portsmouth, making an immediate impression. He established himself in the starting eleven in a right-back position after making his club debut.
This continued up until the beginning of April when he sustained a hamstring injury that forced him to sit out the remainder of the campaign. Despite this, Walkes continued to play for Portsmouth, making 12 games and scoring once. After the 2017–18 campaign, he joined his parent club once more.
On July 18, 2018, Tottenham declared the relocation to Portsmouth to be permanent.