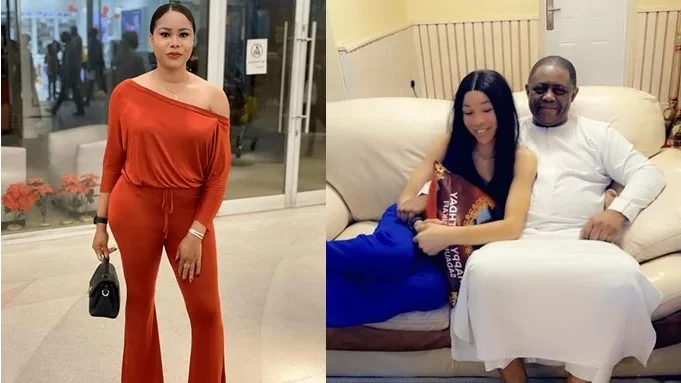 Naija Gossip 247
Enjoy Your Tenure – Fani-Kayode's Ex-wife, Precious Chikwendu Slams His Girlfriend, Ezenwa
Precious Chikwendu, Nigerian actress and ex-wife of Femi Fani-Kayode, has sent a message to his new girlfriend, Ezenwa Chika Nerita.
The mother of two accused the beauty queen of spreading falsehoods about her trying to ruin her relationship with the former Aviation Minister.
Chikwendu took to her Instagram page and shared a message she received from a fan who wanted to confirm if rumours that she's back with the Fani-Kayode is true.
The person said they heard that the actress kicked Nerita out of her ex-husband's life and she has now taken over.
The fan further asked if the reports of her moving back to the house and using leverage to enjoy the APC chieftain's money is true.
It read; "Hi Precious There's a story on u. Heard u chased out FFKs babe and u are now in charge and dating him again. They say u r always at the house and use the kids as excuse and u have started eating money again from him."
In reaction, Chikwendu posted the screenshot and said that Nerta is the person ehind such rumours. She advised the model to focus on fixing her insecurities ecause she is not worried about any man-related issues.
She went on to tell Nerita to enjoy her tenure as Mr Fani'Kayode's lover for the time being.
She wrote; "This can trend for 2days and after, life goes on. Little girl sending out stories please try fixing your relationship and insecurities. As i dey so, man problem can never be any of my current issues. I'm on a different cloud entirely. Enjoyyour tenure."
See the post: