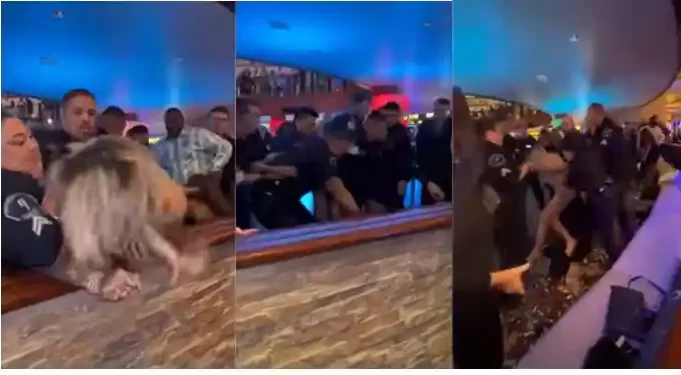 Naija Gossip 247
Drama As More Than 10 Cops Struggle To Arrest One Drunk Woman (Video)
A group of police officers encountered an unexpected challenge while trying to arrest one woman who was causing public disturbance at an event.
The woman had gotten intoxicated by alcohol and she was throwing tantrums, so officers were called to calm the situation.
However, almost a dozen police officers found it difficult to put handcuffs on her and whisk her away because she put up a feisty resistance.
In a trending video, the cops consisting of both male and females could be seen struggling to pin the drunk lady to the floor.
After some moments of intensity which was witnessed by guests, the officers were finally able to subdue the strong lady.
Watch the video:
View this post on Instagram
Reacting, king_sallyjay said; If she was black, you would see how they will bring her down once
chuckbb22; Oyibo police no dey shame, u will see three or four cops trying to arrest one person
ngrdbowen; She maybe a he she
lauren.beatty.18; Excessive force!😢😢😢
madamedinero; IKYFL Is that Stormy Daniels?!?😂
theaccountant609; If she was a dark skin, trust me they would've made sure to put her on a choke and k!ll her right before our eyes.