Notable singer, Samklef comes under fire following his photoshoot and statement on the death of a junior colleague, Mohbad.
Amidst the grief for the loss of the young singer, Samklef took to social media to share his opinion on Mohbad's death.
In a post via the micro-blogging platform, X (formerly Twitter), he emphasized the tradition of mistaking the culprit as the hero in the entertainment industry.
Sharing the note, Samklef added a photoshoot of him rocking a traditional necklace made with cowries which struck the nerves of many fans
"The god of justice SAMKLEF seven has arrived! I've been warning everyone about the darker aspects of the Nigerian Afro beats industry, but not everyone believed me. When victims seek help, they're often vilified. We tend to support the oppressor and ostracize the victims. Brace yourselves for industry issues – names will be mentioned!" he wrote in a post.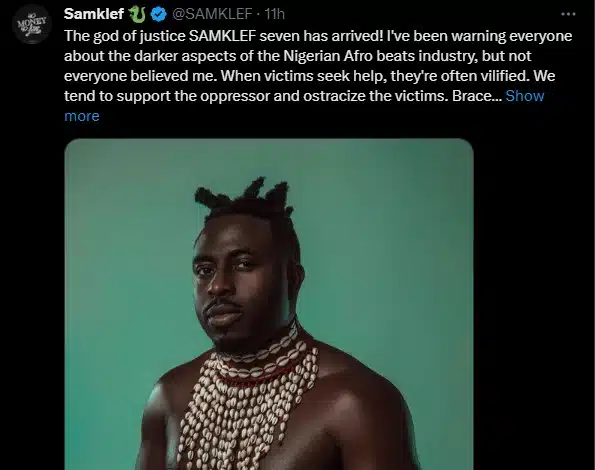 How netizens reacted to Samklef chasing clout with Mohbad's death
iam_bussie wrote: "You really did not seat to think if an adult like you should be going about this In this childish manner?"
vickie_coco stated: "When oba Solomon said "osiwin eniyan" , he was referring to you sir!!"
fineboytunde_ penned: "Samklef seven. No o, samklef 10 ni. Don't you people have shame? At least think about the shame people around you will get from this your fooling."
Warepamorsammy opined: "It's disappointing how you are gong about what you are doing."
yhettyqueen1_ said: "Wtf is wrong with you??? Using Mohbad death to revive your career??!"