A UNICAL student, Daniel Ehis Aiguokhian, begins write-a-thon to break Guinness World Record for writing for 188 hours nonstop.
The young man had earlier in June announced his decision to commence on the daunting feat.
After apparently submitting his request to the recording body, Daniel Ehis Aiguokhian began his official attempt.
His target is to reach 188 hours during which he would be writing both fictions and nonfictional works of literature.
The UNICAL student is set to write from the 1st of October through to 8th of the same month.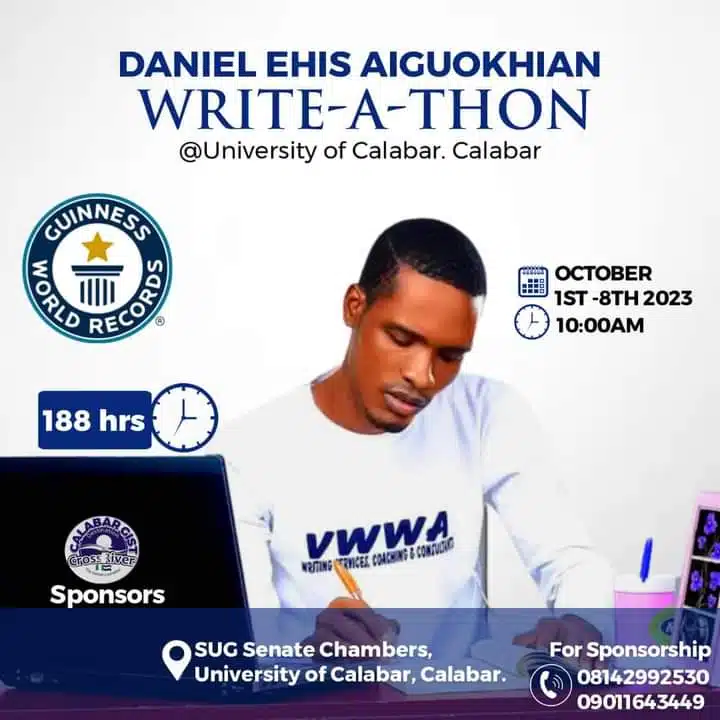 See netizens reactions …
bishy.opeyemi said: "GWR go soon issue public warning to Nigerians."
ladyque_1 reacted: "The word thon don suffer for una hand"
thefoodnetworknig2 wrote: "Say bye bye to the muscles of that hand…E dey shake, otilo"
adesewastylesignature commented: "It's enough guys please"
david_zorander said: "My only question is why choose to suffer so much?"
evalastindayo wondered: "What's he writing?? The History of Nigeria??"
osagiator_ewean_gabriel enquired: "So una nor wan rest for this Guinness book of records?