This is the Biography of Shehu Usman Aliyu Shagari,Turakin Sokoto, first democratically elected President of Nigeria.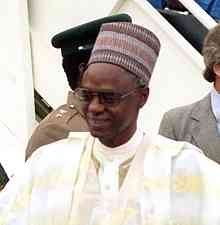 Shehu Shagari was born on February 25, 1925 to the family of Magaji Aliyu and Mariamu both of Fulani origins in Northern Nigeria. When Shehu Shagari was four years old, he was registered into a Quranic School. After that, he attended a primary school in Yabo, and later attended Sokoto middle school, from where he went to Kaduna College, a school originally created to be a training college for teachers.
After attending college, Shehu Shagari got a job as a science teacher at the Sokoto Middle School. He later taught at Zaria Middle School after which he became the headmaster of a primary school in Argungu.
In 1946, Shehu Shagari and Mallam Gambo Abuja jointly formed the Youth Social Circle, a political organization that operated in Sokoto. Some Northern Elite of that time like Ahmadu Bello, Ibrahim Gusau, and Mallam Ahamdu Dabbaba supported the movement.
In 1958, Shehu Shagari was appointed parliamentary secretary to the Prime Minister, Abubakar Tafawa Balewa. Around that surrounding period, Shagari was also elected to represent his constituency (Sokoto Southwest) in the parliament.
In 1948, the Youth Social Circle of Shehu Shagari merged with some other political groups to form the Northern People's Congress, and in 1959, the Northern People's Congress won a national parliamentary election. Between 1960 and 1962, Shehu Shagari was made the minister of Economic Development and minister of Internal Affairs respectively. In 1965, he became the minister of Works and Survey.
In 1979, Shehu Shagari won the presidential election and became the first democratically elected President of the Federal Republic of Nigeria between 1979 and 1983, before his government was overthrown by the military.
When the military sacked Shagari's government, he returned to Sokoto where he held the position of a Councilor, representing Sokoto Native Authority. In 1970, Yakubu Gowon made Shagari the minister of Economic Affairs and also, minister of Finance.
Shehu Shagari married three wives, Aishatu, Amina and Hadiza Shagari. Aishatu Shagari died in 2001 in London after a brief illness.