Celebrity Death
Alice Sheridan Cause of Death: How Did Tommy Sheridan's Mother Die? Explained
Tommy Sheridan, a former Scottish Socialist MSP, said that his mother, Alice Sheridan, had passed away.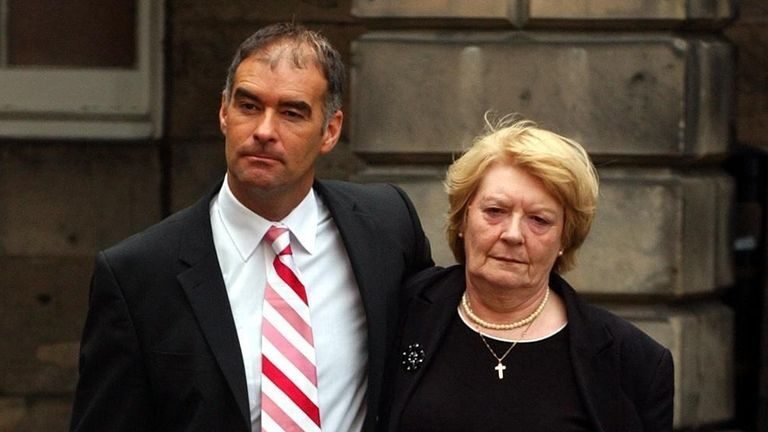 What Happened to Tommy Sheridan's mother?
On his official Facebook page, Tommy Sheridan posted a statement announcing the demise news of his beloved mother.
It is with great regret and broken hearts that my two sisters Lynn and Carol have to inform our friends that our mum sadly was taken from us last night. The circumstances surrounding her death are still being investigated but sadly she was claimed by a fire in her flat on Invergyle Drive in Cardonald.
Alice Sheridan was an incredible mum to us but also a very proud grandmother, great-grandmother, mother-in-law, sister, aunt, and friend to many. She was Govan born and bred and fought injustice all her life.
She was a passionate trade unionist and socialist who believed a better world was possible if enough of us fought for it. Her work with bar staff to organize them into a union and secure better wages and conditions was inspiring.
Her efforts to support the battered wives movement and secure trade union backing for refuge is a matter of record and a source of pride. Her pioneering work with child and adult victims of sexual abuse while employed by the Royal Scottish Society for the Prevention of Cruelty to Children (RSSPCC) was groundbreaking and a source of help for several hundred.
Her role in the titanic battle against Thatcher's poll tax was critical and pivotal in the success of that campaign. Her commitment to Scottish independence and opposition to the poisonous Murdoch media empire was peerless.
She was some wummin. This contribution is painful to write but Alice will never be forgotten and her spirit will live on in our hearts and all those hearts of people who believe in fighting injustice and standing up against poverty and the abuse of power. Rest In Eternal Peace Mum. RIP Alice Sheridan.
Tommy Sheridan, a former MSP, stated that "our hearts are torn" following the death of his mother in a house fire. Overnight, the former leader of the Scottish Socialist Party and MSP announced on his social media pages.
Following the fire that broke out at Invergyle Drive in Cardonald, Glasgow, at around 7.55 p.m. on Sunday, Alice Sheridan, 84, passed away. The Scottish Fire and Rescue Service reported that four fire engines were present (SFRS). At the scene, the 84-year-old was declared dead.
Ongoing Investigation
"Our hearts are devastated," Mr. Sheridan tweeted. Our beloved mother Alice Sheridan perished in a fire in her Cardonald apartment last night under circumstances that are still under investigation. To us, she meant the world.
"Our model and muse. All her life, she battled against injustice. Mom, may you now rest in peace. A combined investigation is being conducted by the police and fire department.
Officers responded to a report of a fire at a residence on Invergyle Drive in Glasgow at around 7.55 p.m. on Sunday, March 12, 2023, according to a Police Scotland spokeswoman. An 84-year-old woman was pronounced deceased at the site after emergency personnel arrived.
"The Scottish Fire and Rescue Service put out the fire, and investigations into the causes are ongoing." According to the Scottish Fire and Rescue Service, they received a call at 7:49 p.m. on Sunday, March 12 about a house fire in Glasgow's Invergyle Road.
"Operations Control dispatched four fire trucks and one aerial truck to the area, where firefighters put out a fire that was affecting a multi-story apartment building.
"Unfortunately, one female victim died there and there. "During this sad time, our sympathies are very much with her family, friends, and all those who are impacted. "SFRS and Police Scotland are conducting a joint inquiry."
When he served as the public face of a widespread campaign against paying the contentious tax in the late 1980s, Mr. Sheridan gained notoriety in Scotland.
In the late 1990s, he founded the Scottish Socialist Party, which at its height resulted in the election of six MSPs to the Scottish Parliament. His mother frequently ran for office in both the party and the Solidarity party that he later founded.